Alumni Achievers
Back to homepage
Congratulations!!! Winner of Femina Miss India World 2019
Femina Ms India, Suman Rao felicitated at Mahatma School.
Suman Rao pursued her education from STD VIII through Junior College in Mahatma School.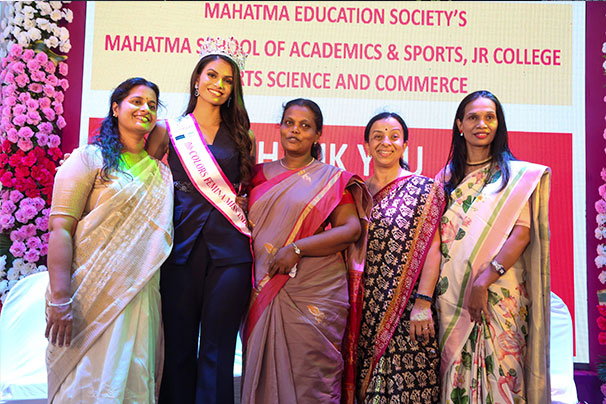 Miss India 2019 first day of homecoming was a visit to her school in New Panvel.
Fbb Colors FEMINA Miss India 2019, Suman Rao's first day of homecoming after her spectacular victory at the Miss India pageant was a visit to the school which gave her a platform to discover her personality. Pillai's Mahatma Education Society, New Panvel where Suman Rao pursued her High School and Junior College education gave her a grand welcome with the school band leading her to the stage.
The founders of the school which is a part of the Pillai Group of Institutions, Dr. K. M. Vasudevan Pillai and Dr. Daphne Pillai felicitated Ms. Suman Rao, who had brought this golden achievement to the Pillai Group in their Golden Jubilee Year.
Speaking to the gathering Suman said she was extremely happy to begin her homecoming journey starting from her school, emphasizing that there was no place better than school to help enhance one's personality. She added that the Principal of her school, Ms. Ramadevi Putta's warm embrace would linger in her memories forever.
Speaking to the student crowd she advised them to not only focus on their studies but also actively participate in co-curricular activities. School is the place where one can develop their personality. She said she was extremely proud to be a student of Mahatma Education Society where the life lessons she learnt had made her Miss India journey possible.
Speaking on this occasion, Dr. Daphne Pillai highlighted that she was deeply touched by Suman's mission in life, which was the upliftment and empowerment of underprivileged women in society.
Suman was also gracious enough to talk to the young students at the school and answer their questions.
When a student asked her what advice would she give them?
She replied, 'believe in yourself. No one can stop you from doing what you want to do. Go for your dreams.'
Finally when asked who was her inspiration in life she said, it was her family. Her father taught her dedication, mother kept her grounded, her brothers on how to live life to the fullest and with fun. She again reiterated the fact that Mahatma School was responsible for developing her personality.
Excerpts : Case study – Shruti Pal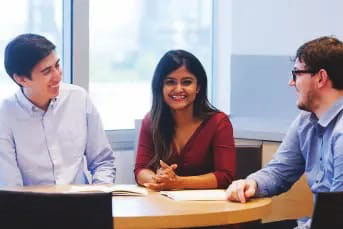 Seven interviews later, a spot in the fast lane. By the age of 26, Shruti Pal has more international experience under her belt than many workers twice her age.
After studying her Bachelor in Mechanical Engineering in her home country of India, she moved to Melbourne to take her masters, including a three-month internship in Germany.
And it was while she was studying in Victoria she heard about Carlton & United Breweries' Global Management Training Program – a 10-month accelerated program that could help her launch an international career.
"It was a fast-paced career track and that's what attracted me to apply," she says.
"It took seven rounds of interviews so it was quite intensive but it was worth it given what was on offer."
Already through the program Pal's travelled to St Louis in the US – home of CUB parent company Anheuser-Busch InBev – and had the opportunity to go to South Africa. In the next year, she will compete with grads across the world for a global exchange program.
Pal says the fast-moving consumer goods sector was a natural fit and part of her overall plans for an international career.
"I'd always looked up to Indra Nooyi, the CEO of PepsiCo, and her FMCG career path," she says. "It was just so good for me to get into FMCG and this is a dream graduate program because it is a global career path."
Pal particularly enjoys cross-functional projects, where she is able to extend her skills as a mechanical engineer into business areas such as packaging analysis, marketing, innovation and sales.
"I get to use all my analytical and quantitative skills, my creativity and logic in the commercial side of the business," she says.
"Every zone operates differently, every country operates differently and I just can't wait for the global doors to open for me."
Anita Gupta becomes a celebrity
https://www.linkedin.com/feed/update/urn:li:activity:6500928829832421376
Anita Gupta on LinkedIn: "After more than 3 years at Uber, on Friday, I moved on."
Our alumna *Anita Gupta* becomes a celebrity overnight with 17k+ likes and 700+ comments on her journey at *Uber* she's moved on recently. Crazy to achieve this on LinkedIn.