T-GEMBA 2014
Back to homepage
Trans-global Executive MBA Program (T-GEMBA) students from Saint Mary's School of Economics and Business Administration, California, USA visited MES Campus from 17 to 22 March, 2014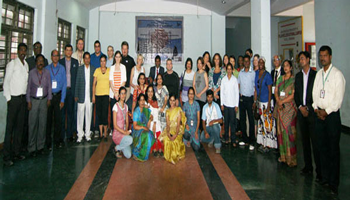 Mahatma Education Society's Pillai Group of Institutions welcomed the group of twenty two management students pursuing the Trans-Global Executive MBA Program (T-GEMBA) from Saint Mary's School of Economics and Business Administration, California, USA for a six day cross cultural business studies program at Dr. K. M. Vasudevan Pillai Campus, Panvel from 17th to 22nd March, 2014.
This year the T-GEMBA group has partnered with the Pillai Institute of Management Studies and Research (PiMSR) and has undertaken 3 projects in Mumbai as a part of the SOSERVMAN (Social Service Management) Program viz. Balprafulta, Creative Handicrafts and Mahatma Night Degree College. They made a study of operational issues, gift-giving and financing issues, logistics questions and strategic issues affecting these organizations. During this visit the US students were given a tour of some slum areas where they interacted with the families living there. They also visited some orphanages and organizations run for the welfare of the disadvantaged women. Subsequent to their study, the students will provide a free of cost recommendatory Project report and presentation to these organizations on the specific areas investigated.
This week long visit also included company visits and lectures at top ranking companies like Tata Consultancy Services, Mahindra & Mahindra Ltd., Reserve Bank of India and National Stock Exchange Limited to get an understanding of the best practices followed by global Indian companies. The students spent a day at Pillai Institute for a lecture series on Entrepreneurship and Turnaround Strategies by top business leaders. In the evening a grand cultural program was put up by the students of the Pillai Group to showcase the rich culture of India.