Panvel Campus Hostel Facility
Back to homepage
Circular for the Girls and Boys Hostel | Rasayani Campus Hostel Facility
---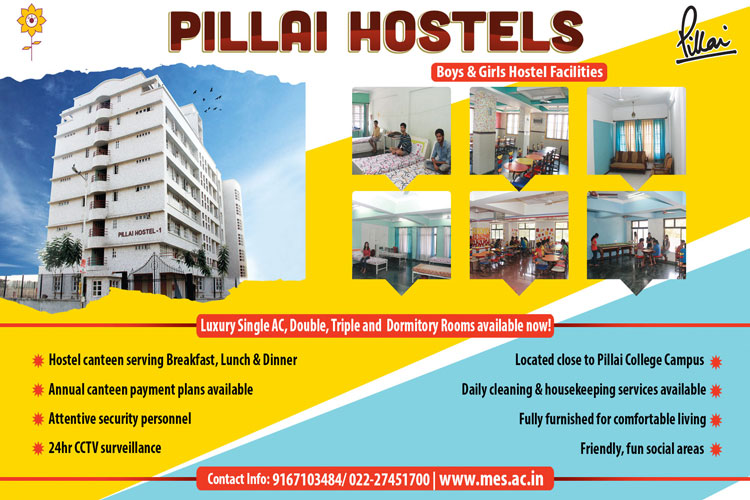 The Pillai Group of Institutions seeks to make high quality education accessible to everyone regardless of their location. Since 2010, all those associated with the Mahatma Education Society have enjoying access to the modern, excellent Pillai hostel facilities of Panvel. Each hostel building has been designed to create the perfect study environment as well as a place in which students can pursue their personal talents including sports and other extra curricular activities. All hostel facilities are located close to the college itself making it very convenient for all staff and students!
At Pillai's hostel, you can enjoy the metropolitan location of Mumbai in the quiet suburban setting of Panvel. Located within walking distance of campus, Pillai Hostels provides a peaceful setting in which academia is combined with extra-curricular activities in one friendly environment.
We have many facilities available to ensure residents are comfortable and satisfied:
Hostel Canteen offering Breakfast, Lunch and Dinner
Annual Meal Plans Available
Daily Cleaning Service Available
24/7 Security Personnel and CCTV
Fast Wifi Connection
Social Areas
Another facility is the caring student community which exists in every Pillai Hostel. Hostel life is an opportunity to socialise with students from all over India in the urban hub of Navi Mumbai.
Pillai Group of Institutions offers separate hostels for boys and girls with various rooms available for students to choose from. Single bed rooms with AC are available upon request.
Girls Hostel
Boys Hostel
Double Rooms & Six Bed Dormitories available!
Full Capacity: 300 students
Triple Rooms, Double Rooms & Single Rooms available!
Full Capacity: 380 students
Join more than 600 students located close to Panvel Campus currently benefitting from the Pillai Hostel facilities. AC options are available.
All prospective residents interested in joining the hostel may arrange a tour with one of our friendly staff members. Please Contact: 9167103484
---
MES Pillai Hostels | Circular for the Girls and Boys Hostel
---
Address of the Girls Hostel
Address of the Boys Hostel
Pillai Girls Hostel
Plot No. 21, Sector 16
New Panvel, Navi Mumbai - 410206
Pillai Boys Hostel
Plot No. 5 and 6, Sector 13
Khanda Colony, Navi Mumbai - 410206
Application Form may be filled out once applicant has contacted the Pillai Hostel Facility.